My Maternity Must-Haves
Jean inspired me with
her list of maternity must-haves
over summer, so here's mine! The winter edition...
BELLI Elasticity Belly Oil, 4 oz
and
Target's Up&Up Cocoa Butter
In an effort to avoid stretch marks, I've put on the cocoa butter after ever shower. It's basically replaced my old lotion, so I put it everywhere. And before bed each night, I have used Belli Oil, per Jean's recommendation. And I will say that the only place I have gotten a stretch mark (thus far... knock on wood) is the one place I did not use the oil! So put it
everywhere
- butt, thighs, tummy, love handles, chest... you name it! Wherever you are gaining weight, use it! Still, I think the cocoa butter has made any damage minor - and hopefully not permanent!
Maternity low-rise jeans from Old Navy
I HIGHLY recommend these jeans, and they are only $34.50!
I have another pair of maternity jeans from Gap, and I hate them. Before I got extremely pregnant they were okay, but once I got bigger, the "low-rise" band, which comes up too high, began cutting into my stomach. Plus they are twice the price of the Old Navy jeans.
Mama J skinny jeans (aka J Brand maternity)
Before I my hips spread (Does that happen to everyone or just little mamas?) these were my absolute favorite! And the low-rise makes them ultra-comfy. Don't judge me for them being name brand. You know I'm thrifty... so naturally, they were on sale for 60% off! And I wore them daily until about 32 weeks. Post-baby, I might still wear them...
Black maternity leggings
These are great for under cotton dresses. It helped me to extend my warm weather wardrobe. They're also great to wear with tees around the house.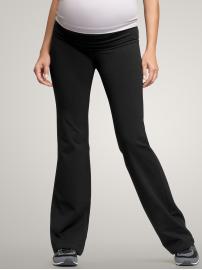 Black yoga pants from Gap
I bought two pairs, and I'm so glad I did. I live in these!
I totally lucked out this season with all of Gap's 40% off days and that Gap Groupon from the fall.
Aladdin tumbler with straw
I put ice water with lemon in here and carry it with me daily - everywhere I go.
And a
cute new pair of glasses
with... don't laugh... transition lenses (The lenses are in gray, not brown, thank you very much.)
My eyes have been getting so dry because of pregnancy that I am loving wearing glasses over contacts. I never thought I'd say that. Still, driving around in glasses isn't practical because it's too sunny to go without sunglasses! So transition lenses it is!
It helps that my dad is an optometrist.
Other maternity must-haves:
White and black tanks to layer under tops
White and black long tees, again for layering
Cardigans - non-maternity are great
Empire waist (non-maternity) tops
Pashminas and jewelry, since I'm not buying much
Coat - I found a cute one at Old Navy for $25.
Zip-up or fleece
Cute flats, though once I got to about 34 weeks, I started wearing pretty much only tennis shoes, Uggs, and flat black boots (and the last pair pretty much just to church).
...Oh and I should add pen and paper to this list. I thought pregnancy brain was bad first trimester. Just wait. Apparently the last month or two is when it gets the worst... for me anyway. I have forgotten birthdays. I lost my debit card and my husband's health insurance card. I've forgotten thank you notes - which I never forget. I can't remember to call people back. I've left my dog outside without a collar and with the gate open far too many times. The list goes on. It's truly embarrassing.
I know there was something really terrible that I forgot the other day, but of course, I can't remember what it was. Ugh. It's beyond funny. It was funny the first few months of pregnancy. But now in the last stretch of pregnancy it's truly at the point of annoying. Mixed with the last trimester "Get this baby out of me" hormones, it's bad.